Potomac River Jazz Club - Celebrating 50 Years!
---

PRJC Concert with Ben Mauger's Vintage Jazz Band
May 14, 2023, from 2-5pm at Rosensteel Knights of Columbus of Silver Spring , 9707 Rosensteel Avenue, Silver Spring, MD Directions

Join the Potomac River Jazz Club for our May concert with Ben Mauger's Vintage Jazz Band! The Pennsylvania based Vintage Jazz Band has been performing through-out the East coast, and pleasing audiences for the last 20 years. Band leader Ben Mauger says that the PRJC is always a gig musicians all look forward to. This year's plan is to honor and play songs made famous by the late great Louis Armstrong during the 1st set, the late great Bix Biederbecke during the second set, and perform some Chicago style Hot Jazz swing the third set. We hope to see you there. Oh yeah ... as always we will be happy to take a few requests too.

The band will include Ben Mauger on trumpet/cornet, Bob Peruzzi on trombone, Dave Wilson on reeds, Bob Kreitz on piano, Tom Hilliker on bass, and Doug Kulp on drums.



Admission:
PRJC members ($20), General admission ($25; $22.50 in advance),
Youth & Students with valid student IDs (Free).
Ticket Purchase
---

PRJC Jazz Educational Discussion: Artie Shaw, Reluctant Superstar
Featuring Seth Keibel
Monday, June 5, 2023, 7-8:15pm, ONLINE via Zoom


We are happy to invite Seth Kibel back to do another PRJC Jazz Talk in our online series.

Artie Shaw catapulted from seeming obscurity to the top of the charts almost overnight with his rendition of "Begin the Beguine" in 1938. Yet fame and success didn't sit well with this stellar musician. This presentation will look at the strange career and life of one of the most perplexing stars of the Big Band Era. Classic recordings, video clips, and live performances from the presenter will make this class swing like the music itself.

We keep inviting Seth back for concerts and talks. He's a fantastic musician, he knows his stuff, and he is entertaining! He's got the trifecta and we are lucky to be able to share it with you. If you have not yet joined us for one of these talks, give it a try! Have a cold beverage at home with your feet up while you are entertained (and you may pick up a few facts along the way).

Seth Kibel is one of the Mid-Atlantic's premier woodwind specialists, working with some of the best bands in klezmer, jazz, swing, and more. Wowing audiences on clarinet, saxophone, and flute, Seth has made a name for himself in the Washington/Baltimore region, and beyond. He is the featured performer with The Kleztet, Bay Jazz Project, Music Pilgrim Trio, The Natty Beaux, and more. Winner of 28 Washington Area Music Awards (Wammies), including "Best World Music Instrumentalist" (2003-11) and "Best Jazz Instrumentalist" (2005, 2007-8, 2011-14). His most recent recording, "When You're Smiling," was released in 2018 on the Azalea City Recordings record label. His song "New Waltz" was the Grand Prize winner of 2016 Mid-Atlantic Song Contest (MASC), sponsored by the Songwriters' Association of Washington (SAW). When he's not performing, Seth frequently lectures on a variety of topics in music history for numerous institutions, including the Osher Lifelong Learning programs at Johns Hopkins and Towson Universities. Learn more about Seth on his website: www.sethkibel.com

The Potomac River Jazz Club (PRJC) has been bringing live jazz, jams and education to the DC area for 50 years. Learn more about our organization on www.prjc.org. All of our monthly online talks are FREE, but we appreciate donations toward the talks as folks are able.

*Register by 5:00 p.m. the day of the event using the link below. Zoom info will be e-mailed out to participants at that time.

This presentation will be held via Zoom and a link will be sent by e-mail the day of the presentation. **Please register by 5:00 p.m. the day of the event.



Admission:The event is FREE! Registration required by 5pm on the day of the event:
Talk Registration

You can support the PRJC or our Concerts and Educational Talks using the Paypal link www.paypal.me/PotomacRiverJazzClub
---

PRJC Summer concert with The Jefferson Street Strutters

June 11, 2023, from 2-5pm
Rosensteel Knights of Columbus of Silver Spring, 9707 Rosensteel Avenue, Silver Spring, MD 20910 Directions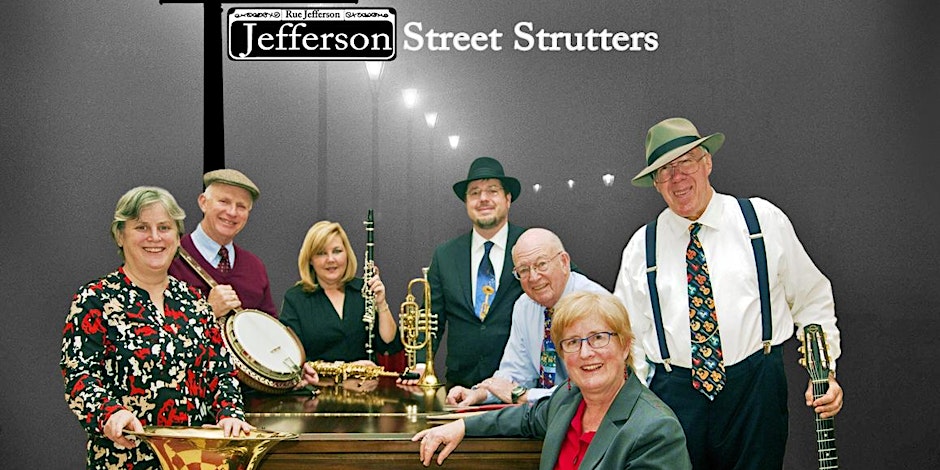 The Jefferson Street Strutters play New Orleans style Traditional Jazz and swing, emphasizing popular songs of the 1920's, 30's, and 40's. Melodies that are relevant and loved today. A potpourri of danceable, hummable melodies both instrumental and with vocals. We like to say, "we play happy music." Our audiences join in the fun with hand-clapping, toe-tapping, smiles and feeling the happiness we strive to bring them.

While the band was hatched on a real Jefferson Street in Northern Virginia, most of its members have played and marched where jazz began, on the streets and in the clubs of New Orleans and its most famous jazz house, Preservation Hall.

Jefferson Street has entertained audiences at the Smithsonian Museum, National Park, street fairs and festivals, and numerous retirement centers. It was honored to be called to lead the Second Line Parade at the Washington National Cathedral memorial for the late WRC-TV new anchor Jim Vance.

Tickets at the door can be purchased with cash or checks (or via our website for e-tickets). Exact change is appreciated!

Admission:
PRJC members ($20), General admission ($25; $22.50 in advance),
Youth & Students with valid student IDs (Free).

Purchase advanced tickets
---
The Conservatory Classic Jazz Band

and the PRJC Jam

June 18, as well as Jul 16, Aug 13, and Sep 24 from 2:30-5pm.
Location: Alfio's La Trattoria, 4515 Willard Avenue, Chevy Chase, MD.

The Conservatory Classic Jazz Band opens and closes the music, with a Jam Session in the middle. All are welcome to sit in or just sit back and enjoy!
The Conservatory Classic Jazz Band was formed in 2003 to present the sounds of traditional jazz to Washington DC audiences. A seven-piece group, they play New Orleans style, Chicago style, small-group swing, and mainstream. CCJB members include Dave Robinson, leader/cornet/trumpet, Brian Priebe on trombone, Gary Gregg on clarinet/sax, Dan Hall on bass, Jeff Reynolds on guitar/banjo, Brian Alpert on drums. Note: Alfio's has valet parking, street parking, and a full dinner menu available.

Visit the band's website at ccjazzband

Advanced Tickets are available from the PRJC EventBrite site: Tickets
Admission: PRJC members ($10), Non-members ($15), Youth & Jammers (Free).

---

PRJC Summer Concert with The Dixie Power Trio

July 9, 2023, from 2:00-5:00pm
Rosensteel Knights of Columbus of Silver Spring, 9707 Rosensteel Avenue, Silver Spring, MD 20910 Directions


---

The PRJC Fall Concert with Heather Pierson
September 17, 2023, from 2:30-5:30pm *** (Note time)
Rosensteel Knights of Columbus of Silver Spring, 9707 Rosensteel Avenue, Silver Spring, MD 20910 Directions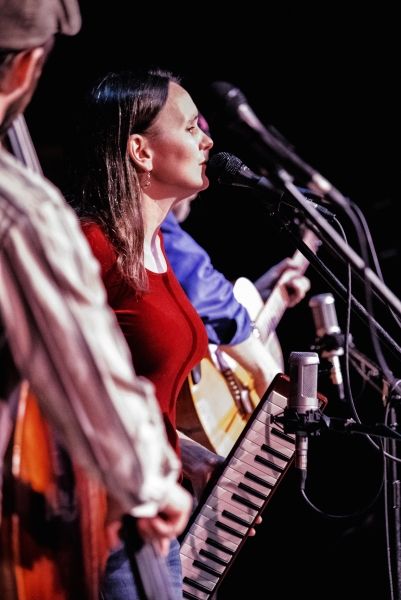 ---

PRJC Oktoberfest concert with the David Sager
October 8, 2023, from 2:00pm-5:00pm
Rosensteel Knights of Columbus of Silver Spring, 9707 Rosensteel Avenue, Silver Spring, MD 20910 Directions


You can support the PRJC, our monthly Educational Talks and PRJC Concerts
using the Paypal link www.paypal.me/PotomacRiverJazzClub

Rosensteel Hall Directions: From the Capital Beltway (I-495) in Maryland take Georgia Ave. (Md. Rte. 97) a short distance north to signal at Forest Glen Road (Md. Rt. 192). Turn left and go west 0.4 miles. Turn right on Rosensteel Ave. The Hall is at 9707 Rosensteel Ave. on the right, opposite a church and cemetery. Parking is in the back. * This location is metro accessible: FOREST GLEN METRO STATION is only 2-3 blocks away. Rosensteel phone is 301-588-3303.
Rosensteel Knights of Columbus of Silver Spring , 9707 Rosensteel Avenue, Silver Spring, MD 20910