Potomac River Jazz Club - Celebrating 50 Years!
The Conservatory Classic Jazz Band

and the PRJC Jam

January 29, February 19, and March 12 from 2:30-4:30.
Location: Alfio's La Trattoria, 4515 Willard Avenue, Chevy Chase, MD.

| | |
| --- | --- |
| | The Conservatory Classic Jazz Band opens and closes the music, with a Jam Session in the middle. All are welcome to sit in or just sit back and enjoy! |

The Conservatory Classic Jazz Band was formed in 2003 to present the sounds of traditional jazz to Washington DC audiences. A seven-piece group, they play New Orleans style, Chicago style, small-group swing, and mainstream. CCJB members include Dave Robinson, leader/cornet/trumpet, Brian Priebe on trombone, Gary Gregg on clarinet/sax, Dan Hall on bass, Jeff Reynolds on guitar/banjo, Brian Alpert on drums. Note: Alfio's has valet parking, street parking, and a full dinner menu available.

Visit the band's website for additional information, at ccjazzband

Admission:
PRJC members ($10), Non-members ($15), Youth & Jammers (Free).

---
PRJC Educational Discussion: Black Masking Mardi Gras Traditions
featuring Bruce "Sunpie" Barnes
Monday, February 6, 2022, 7-8:15pm
ONLINE via Zoom

Our 2023 PRJC Jazz Talk series starts out with a very special presentation. Past presenters have mentioned aspects of Black Masking Mardi Gras culture in their talks. Bruce "Sunpie" Barnes will be talking about these traditions and their influence on the music we love.

Far from the parade routes of the major krewes who fling beads by the millions are lesser-publicized centuries-old rituals that play out on Mardi Gras in predominantly African American neighborhoods. Mardi Gras Indian tribes, Baby Dolls, and Bone Gangs are all culturally important to New Orleans. Our speaker, Bruce "Sunpie" Barnes will talk about these rich traditions and their history.


The North Side Skull and Bone Gang tradition dates back to the early days of the Treme in the early 1800s. The group's stated intention is to remind everyone that death is always lurking, and sooner or later, it will come knocking at your front door. Attired in handmade skull masks made out of papier-mâché and black shirts and pants painted with skeleton bones, the mysterious group walks the neighborhood with drums, chanting, and the knocking on doors and walls of random houses. "We wake up the spirits in the cemetery, bring them back, and set them loose in the streets on Carnival morning," said Big Chief Bruce "Sunpie" Barnes who leads the group. Sunpie is also musician, former park ranger with the National Park Service, actor, photographer, book author, former high school biology teacher, former college football All-American, and former member of the NFL (Kansas City Chiefs). Sunpie Barnes's many careers have taken him far and wide.

This session will be held virtually via Zoom. Login information will be sent two hours before the start of the program. Although we offer these monthly talks for free, the PRJC is always happy to have donations to offset the costs. Learn more about out organization, become a member, or contribute by visiting www.prjc.org.



Admission: The event is FREE! Registration required by 5pm on the day of the event:

Zoom Registration



You can support the PRJC, our monthly Educational Talks and PRJC Concerts
using the Paypal link www.paypal.me/PotomacRiverJazzClub

---

PRJC Mardi Gras concert featuring:
Orleans Express
February 26, 2023, from 1:30pm-4:00pm, with Jazz Jam session to follow
Rosensteel Knights of Columbus of Silver Spring, 9707 Rosensteel Avenue, Silver Spring, MD Directions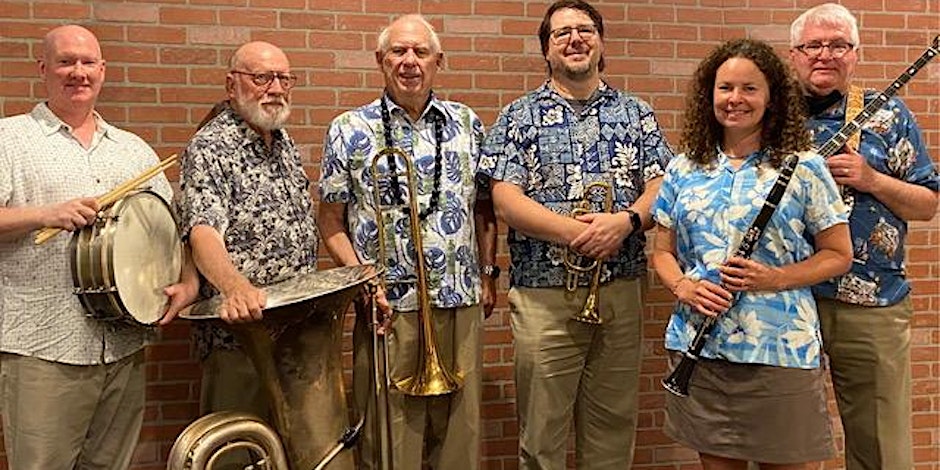 The Potomac River Jazz Club will be celebrating the Mardi Gras season by featuring the Orleans Express of Maryland Jazz Band. You don't have to fly to New Orleans to experience an afternoon of jazz, it will be right here for you in Silver Spring!

Listen, dance, and march (bring your parasols!) to a variety of music fitting to the season. Don your Mardi Gras masks, hats, and beads -- Musicians, bring your axe as we will have an open jam session at the end of the performance to give local talent a chance to sit in and play some trad jazz music!

The band members consist of Les Elkins on cornet and vocals, Halley Schoenberg on reeds, Greg Williams on drums, John O'Brien on banjo, John Stewart on trombone, with Willie Clark subbing on tuba.

The Potomac River Jazz Club (PRJC) has been bringing live New Orleans/Trad style jazz to the DC area for over 51 years. We host our concerts at Rosensteel Hall as it has ample parking, is a few blocks from the metro (red line, Forest Glen), has plenty of seating and dance floor space, and a nicely priced cash bar. Come on out and hear some great live music while supporting local musicians!

Admission: PRJC members ($20), General admission ($25; $22.50 in advance),
Youth with valid student IDs (Free).
InstantSeats Ticket Purchase
---
You can support the PRJC, our monthly Educational Talks and PRJC Concerts
using the Paypal link www.paypal.me/PotomacRiverJazzClub

Rosensteel Hall Directions: From the Capital Beltway (I-495) in Maryland take Georgia Ave. (Md. Rte. 97) a short distance north to signal at Forest Glen Road (Md. Rt. 192). Turn left and go west 0.4 miles. Turn right on Rosensteel Ave. The Hall is at 9707 Rosensteel Ave. on the right, opposite a church and cemetery. Parking is in the back. * This location is metro accessible: FOREST GLEN METRO STATION is only 2-3 blocks away. Rosensteel phone is 301-588-3303.
Rosensteel Knights of Columbus of Silver Spring , 9707 Rosensteel Avenue, Silver Spring, MD 20910