Stu Parcher


Since the PRJC Web site was activated in the spring of 1998, jazz enthusiasts have sent in numerous questions and requests: a best man looking for a local jazz venue to throw a bachelor party for the groom, bandleaders wanting to affiliate their bands with PRJC, a mom looking for a real live jazz musician to perform at her daughter's school, complaints that our on-line membership form was confusing, somebody looking for banjo lessons. And others.


All of the e-mails come to me, as Website manager. I usually forward them to whichever club member I think can help or provide the answer.


On October 3 we received an especially interesting request. The sender was "Ibrahim from Cameroon." Ibrahim said "I entered your Website surfing on the net. Exactly I were checking for New Orleans jazz old figures when I found your address... You know I'm an amateur of music, especially jazz. I entered a school of music here to learn some theories of that art, during three years, and I were specializing in trumpet.


"But here's my problem. I do not have any source of revenue, so as to be able to purchase my own instrument."


Ibrahim (whose last name is Mounchingam) explained that he's still in school at the University of Yaounde as a geography student. He closed by asking "So, please won't you help me owning a trumpet, or even a cornet for a personal use? I beg you a lot. I don't know, but do it for me, perhaps would you have save my soul in this earth."


Now, who wouldn't respond positively to such a plea?


After coordinating with President Don Farwell I relayed the e-mail to Frank Mesich, co-leader and trombone/euphonium player for the Buck Creek Jazz Band and an avid collector of brass instruments. I asked him what he thought we'd have to pay for a used trumpet. Frank's reply was quick, generous and to the point: "If you think he's legit, I'll donate one -- you ship it."


So I sent an e-mail back to Ibrahim saying we were looking into the possibility of getting an instrument for him but would like to get an e-mail from one of his music teachers to tell us about his studies and his desire to learn to play jazz.


The next day we received both a thank you from Ibrahim and a separate full page endorsement of the young man's enthusiasm and study habits. He was always coming in first in his class, the teacher said, and then reported "...he's very engaged in music; I've discovered that it is more than a passion. He was first interested in military music genre, and then one day he heard a performance of the great Louis Armstrong. He enjoyed the jazz style and decided to learn to play it (but not without a trumpet)... Every time he has the opportunity to use a trumpet, he excels in playing good melodies on improvisation."


This convinced Frank Mesich and me that he was "legit." Frank said he had a good-playing Olds Special (made in Los Angeles, probably in the 1950s) with a little something lacking in the looks department. But, as Frank said, "it plays just the same shiny or not."


So the trumpet, mouthpiece, music holder and some valve oil, along with a CD of the Potomac River Jazz Club Bands plus a couple of other CDs, all in an instrument case, are now on their way to the young jazz enthusiast in Cameroon. President Farwell enclosed a letter from the club encouraging him in his studies and asking for a report on how he's doing, plus a photograph.


In one of his e-mails Ibrahim said "I really think that I'll stay in permanent contact with the Club for exchanges on different items of the jazz art." We wish Ibrahim well and hope he will keep in touch with us.


On November 29, 2003, the PRJC Web site received this e-mail from Ibrahim Mounchingam:

Hello Mr Parcher,

The trumpet has come, I got it last Tuesday afternoon. It was already here in Yaounde, since last November 12, but I received the notification only on Monday 25th.

It wasn't easy, because the Customs services asked me to pay fees (about 117.32$). I was obliged to see the Customs office's Head who to gave to me the possibility to pay less than the third part of the amount.

I also saw the CD's and the letter the Director of the PRJC wrote including the picture of Mr. Frank Mesich who donated the instrument for me.

I took some numeric pictures that I'll join to this mail. I've started playing with the trumpet ; as I attended not regularly practical courses, I'll get in touch with one of my teachers. He's the head of the Cameroon Police Band, he is also at the head of a parallel club called "Echos Jazz of the Police". They use to perform during specific occasions. But I'll try to get more informations for the PRJC about them.

Actually their preparing for a jam session which will take place from December 6 to 7, 2002 (it means Friday and Saturday of the next week), at the French Cultural Centre. The jam itself is called "Sainte CÚcile Ya Jazz". Created by Mr Adala GILDO, a jazzman of the place, Responsible of some duties in the Cameroon Ministry of CultureI, it will be the third edition.

Concerning that, I'm planning to made records of the performances of all the orchestras that are supposed to be there, and I'll send them to you for appreciation. But what I can tell you is that people here in Cameroon are less interested by jazz, and so there are no more clubs and orchestras specialised on it.

O.K., I've talked a lot. I'll frequently send write to the club. Now I've started checking documentation on jazz skills (structure of songs, composition, arrangements, improvisation, ...etc.).

What I can add for the end is ... "THANKS A MILLION".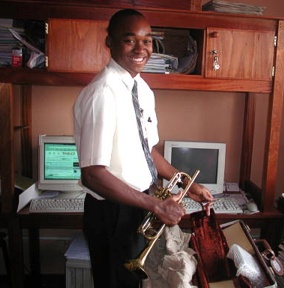 To receive a free sample copy of "Tailgate Ramblings" send an e-mail to PRJC with "Sample Newsletter" as the subject line and include your name and address in the text.