Jazz Photos by Joel Albert, PRJC Photographer.
If you are interested in Joel's photography, he can be reached by email: jralbert37 (at) gmail (dot) com
Event Quick Menu Link
Holiday Bash with The Beltway Brass - December

Jim Ritter's All Stars - November

Hal's Bayou Jazz Band - October

The PRJC Picnic - September

Dave Sager's Pie in the Sky Band - July

Ben Mauger's Vintage Jazz Band - June
Holiday Bash with The Beltway Brass, 6 December 2015 at Rosensteel Hall
The Beltway Brass Quintet line-up included Zach Smith (trumpet), Chas T. Peterson (trumpet), Merry Beth Hall (horn), Dan Haverstock (trombone), and Tom Holtz on tuba.





The PRJC End of Autumn Bash featuring Jim Ritter's All Stars
15 November 2015
The All Stars featured Rhoades Whitehill on trombone, Ben Redwine on clarinet, Rick Rowe on banjo, Tom Holtz on tuba, and lead Jim Ritter on cornet.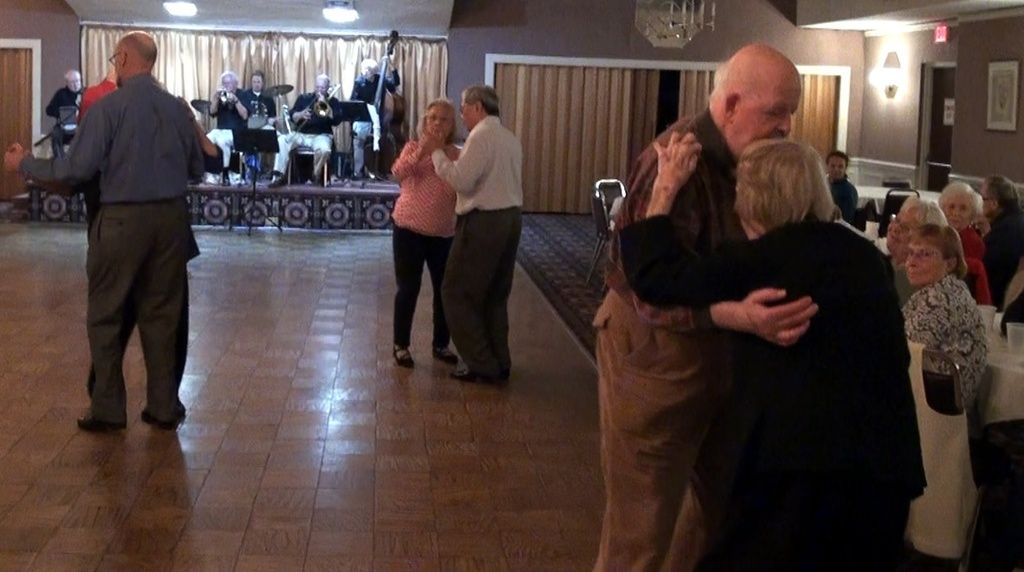 Hal's Bayou Jazz Band, Rosensteel, 11 October 2015
The PRJC Annual Hot Jazz Picnic, 19 September 2015
Testing out a brand new venue, the Workhouse Arts Center.
The picnic featured three bands:
The Jefferson Street Strutters, followed by The Capital Focus Jazz Band, and closed out with The Conservatory Classic Jazz Band!


A PRJC celebration with Dave Sager's Pie in the Sky Band, 12 July 2015


Grammy Nominee and Curator of the National Jukebox, David Sager and his seven piece Pie in the Sky Jazz Band performed the hot tunes of the Prohibition era.





Ben Mauger's Vintage Jazz Band, at Rosensteel, 14 June 2015

Ben Mauger's Vintage JB from south central PA has delighted PRJC audiences since 2009. Ben and his boys play good ol'New Orleans hot jazz from the 1920s and 1930s as well as NYC-style swing jazz made famous in the 1940s and 1950s.



Stride pianist Neville Dickie with the Conservatory Classic Jazz Band, 16 May 2015

Joining Neville Dickie on piano, the Conservatory Classic Jazz Band composed of:
Cornet/leader, David Robison,
Trombone, Brian Priebe
Reeds, Gary Gregg
Guitar/Banjo, Jeff Reynolds
Bass, Dallas Smith
Drums, Anders Eliassen, and
Vocals, Lena Seikaly.

Neville Dickie, the UK's foremost stride and boogie woogie pianist. He has delighted audiences all over the world for the better part of 5 decades. Neville thrilled the PRJC in 2013 and 2014, and once again traveled across the Big Pond to match his superb talents with our own exceptional CCJB.





The Capital Focus Jazz Band, at Rosensteel, 26 April 2015
The Capital Focus Jazz Band (formerly the Federal Focus Jazz Band) is the Youth Learning Program of the Potomac River Jazz Club. Since 1988, this nationally acclaimed program has provided promising young musicians with a grounding in the fundamentals of jazz, as well as specialized training in the traditional New Orleans styles and their offshoots. The Capital Focus Jazz Band learning program was formed to continue the legacy of such giants of American music as Louis Armstrong, Jelly Roll Morton, Bix Beiderbecke, Sidney Bechet, Duke Ellington, and Jack Teagarden. The band's director, Dave Robinson, is an accomplished cornetist and trumpeter for some four decades.





St Patrick's Day with John Jensen's All Stars, 15 March 2015
Mardi Gras Special with Halley Shoenberg's Hot Gumbo Jazz Band at Rosensteel, 15 February 2015